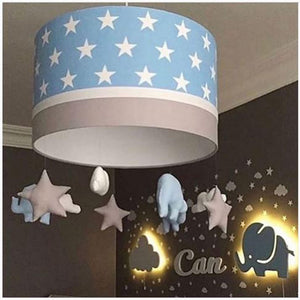 Baby Room Ceiling Lamp
Levant's Baby Room Ceiling Lamp 3.25 pounds
Matching Ceiling Lamp with Baby Bedding is the best option to ensure a good comfort for the baby. A ceiling lamp can set the tone of a room and complement your style. Get your nursery lighting right for peaceful nights, easy feeds and a blissfully sleeping baby.
Why ceiling lamp?
Ceiling lamp is needed to make out the surroundings clearly and to help the children gauge distances accurately. Luminaires with low glare and good color rendering are needed where children engage in creative activities or when playing with colors. 
Eye protection- no harsh or glare lights.
Create light layers

Power efficiency >80%

Wattage(W): 24W

Circular shape mounts easily on ceiling

Adjustable light directions

Variety lighting modes for endless entertainment
Research has found that a ceiling lamp lowers a child's risk of developing nearsightedness. It helps to prevent disease, circadian rhythm disorders, and near-sightedness. And new research suggests that bright light has a crucial impact on the brain. It may foster the formation of new synapses, and enhance our ability to learn.
Suggestions:
 For a safe and secure installation, please ensure that the electrical box to which this fixture will be mounted is properly attached to a structural member of the building.

All wires are connected. When unpacking, be careful not to pull with wires as a bad connection may result.

 Do not connect electricity until your fixture is fully assembled.

 To reduce the risk of fire, electrical shock, or personal injury, always turn off and unplug fixture and allow it to cool prior to replacing light bulb.
Weight : 3.25 pounds (approx)
---